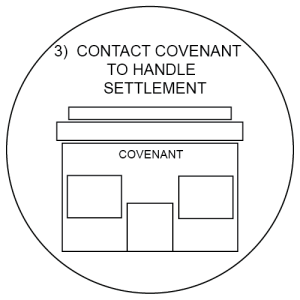 Buyer or Realtor or Lender contacts Covenant Real Estate Services to start the settlement preparation process
Covenant receives a copy of the contract and the lender information
Covenant opens a file and orders a title search of the legal documents associated with your property. This will typically take at least 7 days to complete
Covenant collects the needed information from the buyer. Some question we might ask include:  Do you want a survey? Are you getting a home warranty? What insurance agent or company will provide your homeowners insurance coverage?
Will there be a home inspection (for radon, termite, septic)? An I & I if you are in the service area of Roanoke Regional Water Authority?